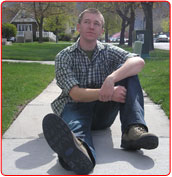 Peter V. Hilton
Peter still recalls the exact childhood experiences that led him to being a contributing writer-editor at Bootstrap Business. Preschool theater classes matured into elementary school creative writing that in turn fed a fifth-grade desire to be a journalist. When Peter entered sixth grade, his father started down the entrepreneurial path, and almost the entire next decade colored Peter's imagination and creative pursuits with bootstrapping possibilities.
Peter repeatedly affirms that 99% of success is luck, and that 99% of luck can be manufactured. Currently, Peter runs his own business, using strategies learned over the year he spent editing Bootstrap Business: A Step-by-Step Business Survival Guide. Peter new helps create Bootstrap Business–related collateral and writes and edits just about everything Rich and Ron send his way.
After a year at De Anza Community College (Cupertino, CA), Peter transferred to Brigham Young University (Provo, UT), where began studying English, editing and music. After spending two years in Sydney, Australia, Peter has resumed his education at BYU. After graduation in December 2009, he will attend law school and likely pursue a joint degree in law and business as a route to enter the world of publishing. Peter's leisure pursuits include musical and theatrical performance and service, outdoors and sporting activities, reading, and life in general.