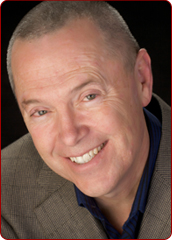 Ron E. Porter
Even in Ron's earliest corporate experience programming COBOL on an IBM 4341 for Tanner Southwest, entrepreneurial tendencies were evident. Along with another programmer, he started a "skunk works" project programming applications on a personal computer using C as their development tool. Recognizing the potential power of networking personal computers, Ron began moonlighting with an established construction firm as their Network Specialist.
McGee Walpole, Inc. wanted to move their entire manual accounting system, forecasting, and job bidding process onto networked PCs. From pulling cable to building servers to installing operating systems and applications, Ron implemented a successful transition. But the efforts only fired his desire to work for the company responsible for developing the finest network operating system on the market at that time: Novell, Inc.
Without a job but armed with a dream to work for Novell, Ron moved his family to Utah and began seeking employment opportunities with Novell. Ron's tenure with Novell began as a front-line support technician and concluded as the director of worldwide premium services. Ron's boss, vice president–services Jan Newman, collaborated with Ron about the idea of creating a chargeable service for Novell's enterprise customers. Beginning with just the idea, Ron assembled a killer management team which eventually hired over 250 employees world wide and enjoyed unprecedented success in services. The creation and implementation of Novell's Premium Services resulted in a multimillion dollar success under Ron's direction.
In late 1999, Ron was invited to join a startup company, Altiris, Inc. His job was to build a worldwide professional services team. As vice president of worldwide services Ron took several services teams from 4 employees to over 200 in 4 years. Services evolved from a cost center to a profit center—an exciting adventure to say they least. In 2004 Ron left services for a short stint as vice president business services (operations). But the lure of building a business for himself was ever present, especially during long, drawn-out executive staff meetings. In late 2005, after multiple acquisitions resulting in counter-productive redundancy, Ron was laid off. Back to the corporate world or grab the opportunity to build his own business? It was time to try his hand at entrepreneurship of another flavor.